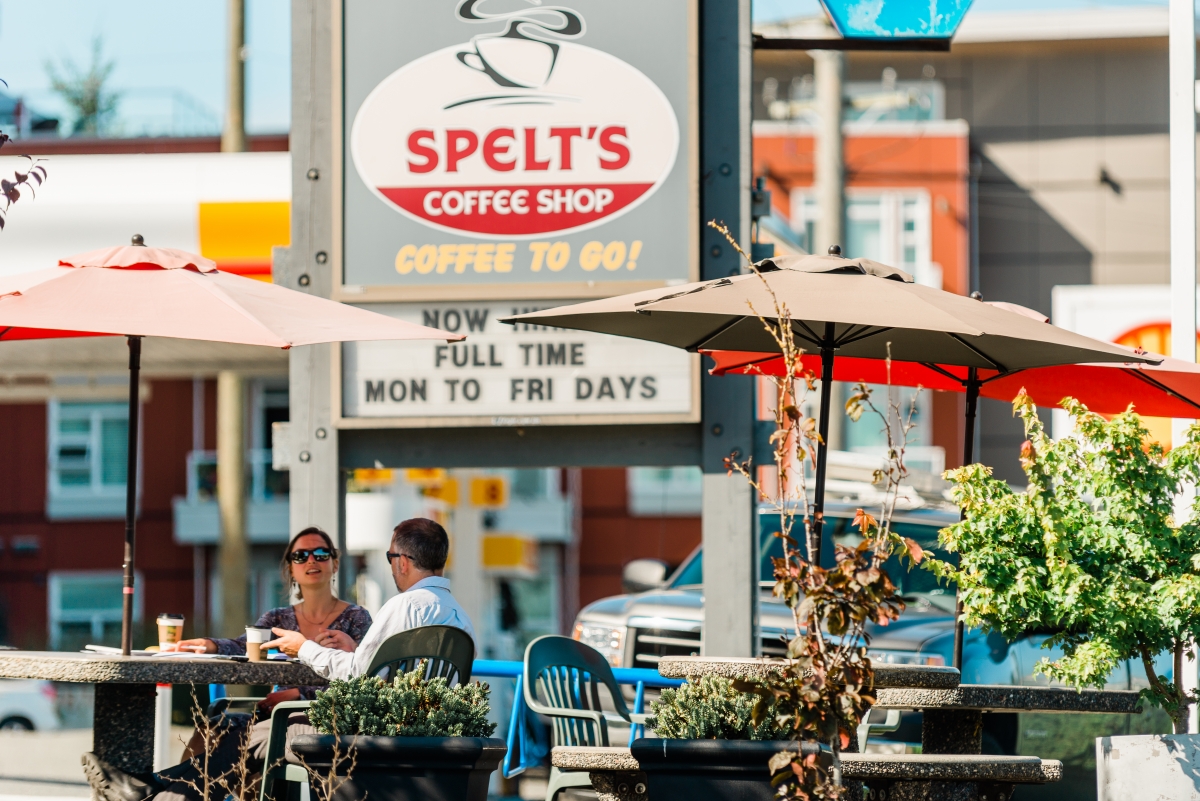 Interested in a temporary outdoor patio or retail/industrial customer service area?
To assist businesses and enable outdoor customer service, you can temporarily expand on private land in some cases.
Guidelines to assist in your setup:
Your expanded customer service areas could occupy a portion of your dedicated parking stalls. You can temporarily use up to 40% of your business's required stalls (off street) to a maximum 10. All accessible stalls must be maintained. 
This program is for outdoor retail/industrial and patio expansions that are temporary only and has been extended to October 31, 2021. All materials and furniture used must be temporary in nature so that they can be removed easily, and the area can be restored to its original condition.
These steps will help make your temporary space successful and safe:
Talk with the landowner(s) and other affected businesses. If you are a commercial tenant, it is your responsibility to ensure the landowner consents to your plan. Also, if there are other businesses on the property that could be affected by your proposal, make sure they are aware of your plan.
Choose your location. Identify where you plan on creating your temporary patio or retail/industrial area. An informal site plan can aid your discussions with the land owner, other businesses, and for any questions you may have of the District. You can find your property using the Central Saanich Map Viewer at centralsaanich.ca/maps. Check property lines to ensure you're not encroaching on public land or neighbouring landowners;
Avoid occupying any accessible parking stalls designated for persons with disabilities;
Avoid impeding accessible pathways to and from the building.
Ensure all building exits remain unimpeded for safe fire exiting purposes.
Ensure pedestrians and vehicles can still move around safely;
Keep a safe distance from utility infrastructure, such as transformer boxes; and
Avoid landscaped areas as these, as these areas are an important part of our community's character, and are often required as part of the overall site development plan.
Consider visibility and signage: If you're going to use fencing around your temporary space, use low fencing (36" or less) that is not opaque. Fencing that you can see through helps to promote safety and increases visibility. Also, ensure any new signage is kept to a minimum and is temporary. All signage must comply with the District's Sign Bylaw.
If expansion onto private lands is not an option, the District does have the ability to enter into an Encroachment Agreement with businesses, on a case by case basis, to enable expansion onto municipal lands, including sidewalks, boulevards or public parking areas. Please contact our Planning and Building Services Department at planning@cssaanich.ca for further information.
For Restaurant and Liquor establishments
Decide whether you plan on serving liquor. If you plan on serving liquor in your temporary patio area, make sure that it is consistent with your Liquor License. If you require a new Liquor License, or a change to an existing Liquor License, contact Planning and Building Services Department at planning@csaanich.ca.  An approval from the Liquor and Cannabis Regulations Branch may be required.