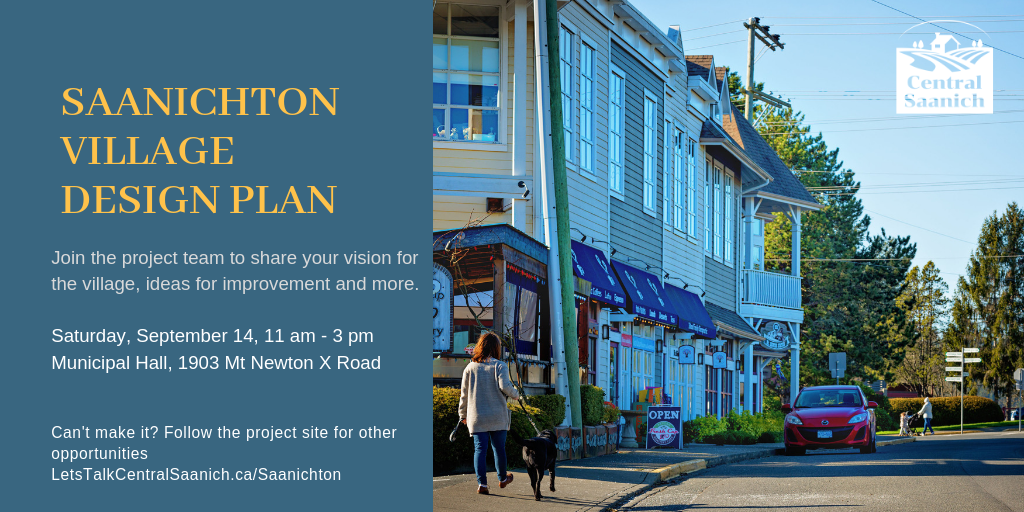 The District of Central Saanich is reaching out to the community as it begins developing a design plan for Saanichton Village. The plan will help guide future developments and investments in the area to support a well-planned village core.
The District wants to know what you think about the look, feel, and function of the village, as well as how it can be enhanced over the long term through the design of buildings, public spaces, and transportation routes for pedestrians, cyclists, and vehicles.
Residents, business operators, and those who spend time in the Village are encouraged to join municipal staff for a drop-in event on Saturday, September 14, between 11:00 a.m. and 3:00 p.m. at the Municipal Hall in Saanichton (1903 Mount Newton Cross Rd). This drop-in event will include interactive display boards, mapping exercises, and the opportunity to talk with the project team. Share your vision for the village, ideas for improvements, transportation solutions, and environmental enhancements.
If you're not able to make it, the project team will also be on the streets in Saanichton Village from September 21 and 25. For the pop up schedule, materials and information on other upcoming opportunities, see LetsTalkCentralSaanich.ca/Saanichton.