With the holiday season around the corner, consider supporting the wide selection of shops, restaurants and businesses Central Saanich has to offer – many of them locally owned and operated.
The impacts of COVID-19 have deeply affected all of us, especially our local businesses ­– the backbone of our community. This year find unique gifts to put under the tree on Christmas morning or plan your special dinner out in Central Saanich and feel good about supporting your local community.
Enter our #ShopCSaan photo contest to win a $100 gift certificate to a local business or service of your choice.
All you have to do is:
Take a picture of yourself / your family shopping, dining, visiting, etc. in Central Saanich between December 1 - 12, 2020.
Post your photo on Facebook, Instagram or Twitter. Use #ShopCSaan.
If you don't use social media, you can email your photo to Community.Services@csaaanich.ca to be entered.
Enter as many times as you like during the 12 days of December to increase chances of winning! Twelve winners will be announced on December 15.
10 fun ideas... for making this holiday time extra special and giving back to local business owners who give so much to our community:
1: Do Some Creative Gift Shopping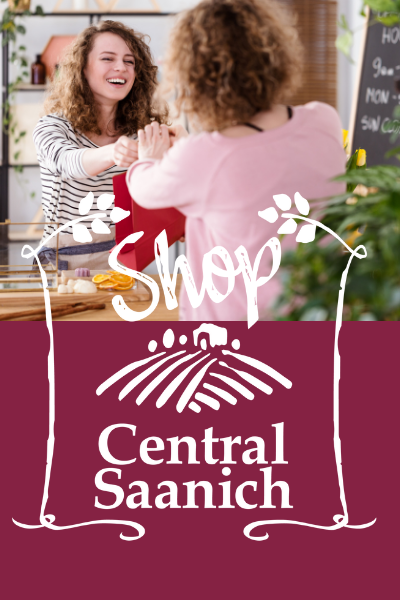 Make searching for unique gifts fun, right in your neighbourhood! Local shops have fantastic giftware—some of it made right here. Gift cards from a nearby restaurant, coffee shops or hair salons are also handy stocking stuffers or gifts for teachers and colleagues.
If you have friends and family who are unable to visit this year, check out a local boutique to find the perfect gift to send in the mail.
2: Be a Tourist in Your Hometown
Many local attractions and restaurants in Central Saanich remain open with COVID-19 safety precautions in place and are experiencing significant decline in visitors. Do some research before you go to find out which businesses are open and how they've altered their services. Plan a day of fun quality time with your bubble and enjoy our local tourist attractions.
3: Explore a Local Farm
We live a virtual breadbasket, so show some love to a farmer and pick up your chicken or ham, veggies and other treats from a local farm. Many also sell preserves, pickles, baked goods and more!
4: Shop for Dinner at Local Grocers and Specialty Shops
Small shops that rely on foot traffic need our support. The holidays are a time for spending time with family and eating good food! Why not check out our local butchers, bakeries, wine merchants and more when shopping for your next family meal.
5: Plan a Special Dinner in Central Saanich
We have fine dining – and casual options, too! Many locally owned businesses have risen to the occasion to safely serve us during these trying times. Most establishments offer delivery or to-go options.
6: Share your Experience
Word-of-mouth can mean everything for a small business. Share reviews about your experience with a local business on their website or social media page.
7: Give the Gift of Wellness
Working out and taking care of ourselves can be a challenge during COVID-19. Check out Central Saanich's local practitioners for Pilates, gyms, massage and more. Gift certificates? Yes!
8: Don't Know What to Buy the Person Who Says They Have Everything? Give a Donation in Their Name!
Local foodbanks, Beacon Community Services, Mt Newton Centre, Saanich Peninsula Hospital, and other local agencies are feeling the pinch of fewer donations. Do you have a family member who is a member of a local club, like the Lawn Bowling Club or Lions? Perhaps they'd take a donation in their name.
9: Spiff up Your Home for the Holidays
Local DIYers: we have a bounty of hardware, lumber and paint stores to get you on your way. Prefer to hire a tradesperson? Yup, they live in our community too.
10: Encourage Friends and Family to Support Local
Giving back to your community feels good and it's fun! Tell your friends and family why you're supporting local this #ShopCSaan and encourage them to enter our photo contest as well.
Photo Contest Rules and Regulations
Each entry will be entered in the sweepstakes. Enter as many times as you like during December 1 -12, 2020, to increase your odds of winning.
Winners will be contacted on December 15 and must respond by January 1 to receive a $100 gift certificate to a local business or service of their choice.
Only one prize per person.