With the turning of the year, there is nothing like a look back at what was accomplished. Here is a summary of just some of the highlights of 2019 at the District!
Active Transportation Plan kicked off
The District began developing a much anticipated Active Transportation Plan (to be completed in 2020) to support walking, biking and other modes of active transportation in Central Saanich. The plan will provide a course of action that reflects the community's priorities and available resources. Subscribe for updates on the project site.
Saanichton Village Design Plan got underway                                                                                      
The design plan got underway and, once completed, will help guide future developments and investments in the area to support a well-planned village core. The District began consultation and drafts in 2019—to be presented in early 2020. If you would like to learn more, please see the project site.
Keating Flyover announced                                                      
British Columbia's Minister of Transportation and Infrastructure announced a new flyover at Keating Cross Road in Central Saanich.  The project involves a new "flyover" overpass from the Pat Bay Highway (Highway 17) northbound to Keating Cross Road westbound, eliminating the left turn across highway traffic onto Keating Cross Road. The project will also include a realigned southbound on-ramp to Victoria. Central Saanich is contributing funding towards road improvements to support the flyover.
Climate Leadership Plan targets accelerated
After declaring a climate emergency in July 2019, Council directed staff to provide a report providing options for accelerating the District's 2018 Climate Leadership Plan. On December 16, 2019, Council approved accelerated community climate targets that align with the UN's recommendation to limit global temperature increase to 1.5°C. These targets are: 1) reduce community emissions by 45% by 2030, and 2) become a carbon neutral community by 2050. Learn more and subscribe for updates on this work on the District's climate action site.
Climate Speaker Series launched
Central Saanich partnered with local experts and businesses to host a series of climate presentations. The first two topics were electric vehicles and e-bikes and energy efficient homes and rebates. Vehicles and homes/buildings account for almost all of the community's greenhouse gas emissions.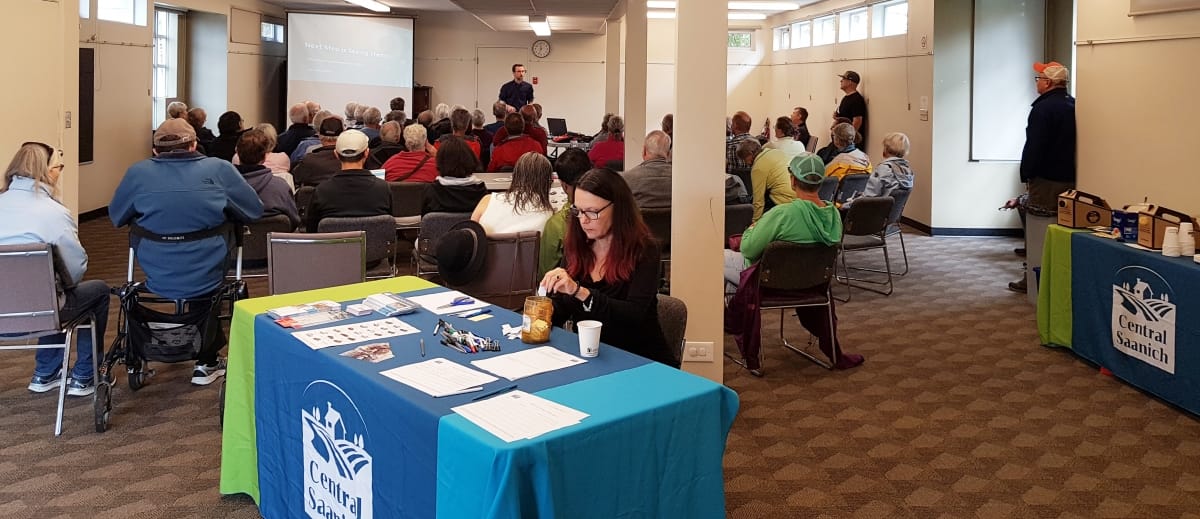 Fire Station #1 solar project largest on Vancouver Island
With the addition of 360 solar panels, Central Saanich's Fire Station 1 is a shining example of cost-effective renewable energy. On a sunny day, the electricity captured is more than double what the station needs for power, making it not only energy-neutral, but putting power back into the energy grid and crediting the station for future hydro use. The PV system is expected to completely recover the installed cost in 11 years. Net earnings are estimated to be over $500,000 after 25 years. If the panels reach full life, they will return over $1 million dollars in savings.
Local art works added to cenotaph and Municipal Hall
The Municipal Hall is the new home of two incredible works of art by local artist, Chris Paul. These permanent additions add W̱SÁNEĆ culture and a warm welcome to our lobby for all visitors to enjoy.
The cenotaph's fourth side was recently finalized by local artist Charles Elliott and member of the Tsartlip First Nation. Mr. Elliott's artwork honours the aboriginal lives lost in conflict and illustrates a person in the midst of conflict, watched over by eagles. ​
Open air burning regulations updated
To improve air quality in Central Saanich burning regulations were updated with a more balanced approach of burning determined by the Provincial Ventilation Index. Open burning will be permitted on any day when the venting index is forecast to be 'Good' or 'Fair' for Southern Vancouver Island. For the 2019/2020 burning season, fires will continue to be allowed on Friday's regardless of the venting index.
MODO car share came to Central Saanich
Central Saanich residents and businesses now have access to three carshare vehicles operated by Modo. Modo's carshare service is an alternative, or addition, to private vehicle ownership.
Residential Infill and Densification guidelines and policy drafted
In 2019, work and consultation continued to create policies and guidelines for sensitive infill housing. The project aims to support build complete, compact communities that support a variety of housing types, walking and transit use. The final results of this work are housing and land use policy and design guidelines—there are drafts posted on the project site and there will be a public hearing in early 2020 for those interested in attending or speaking about the project. 
BC Energy Step Code implemented
Council has endorsed implementation of Step 1 as of January 1, 2020; and Step 3 for most new residential and Step 2 for new commercial buildings as of January 1, 2021. The Step Code levels relate to higher energy efficient construction, equipment and tight air barriers which will reduce greenhouse gas emissions and help the District reach our climate leadership plan goals. Learn more here.
Budgeting and financial reporting awards
In 2019, the District received a Distinguished Budget Presentation Award from the Government Finance Officers Association of the United States and Canada (GFOA) for last year's 2018 Financial Plan. This award represents a significant achievement by the District and it reflects its commitment to meeting the highest principles of government budgeting.
Ravine Park sewer pipe upgraded
This critical piece of infrastructure replaced an aging sewer pipe which was positioned in a creek in Ravine Park. The new sewer pipe was hung underneath a pedestrian bridge to eliminate risks of damage from high creeks flows and debris. The new location also improves fish habitat by removing a barrier.
School zones get safety stencils
To improve driver awareness that they are entering into a 30km/hr school zone, the District placed road stencils at all schools in Central Saanich.
Mount Newton Trail extension completed
A new multi-use trail extension on Mount Newton Cross Road was built; it runs from West Saanich Road to St. Stephens Road and connects to an existing trail leading users down to the Individual Learning Centre. The 1.2 meter-wide gravel trail is suitable for walking, biking and horse-back riding, and it will be separated from the roadway to provide a safety buffer for users from vehicles. The trail meanders around existing mature trees, which allowed nearly all of the Gerry Oaks and Fir trees to be protected. 
Farmworker accommodation guidelines developed
In early 2019 we reached out to local farmers and the greater community as we began drafting farm worker accommodation guidelines. Based on the results of public consultation, the referral responses and best practices, two amendment bylaws have been drafted for Council consideration. For further information and the results of the public consultation, please see the staff report.
Electric vehicles added to corporate fleet
To right-size the vehicles at Municipal Hall, two electric vehicles were added to the corporate fleet and older vehicles were repurposed and retired.
Maber Flats Draining Improvements
Central Saanich is working to resolve drainage issues at Maber Flats, which has a history of flooding during the winter months. Improvements will help to re-establish natural conditions and will attenuate flows into Graham Creek to enhance fisheries habitat. The new drainage system will also preserve the area as a waterfowl habitat. The plan also includes re-establishing native plantings and traditional use along the north property line, and building a bird viewing platform with educational signage.